Introduction about Viking Rollers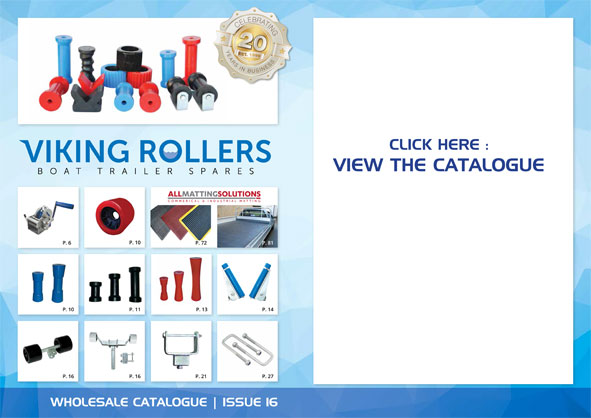 Viking Rollers
is an established company with over 2 decades of experience in the manufacturing and distribution of Boat Rollers : Blue Rollers, Red Soft Rollers, Rubber

Rollers, and a wide range of boat trailer parts.
We are committed to providing our customers with promising products at low costs, through prompt, reliable and efficient services that meet your expectations
We also manufacture and supply manufacturing and wholesaling Commercial and Domestic matting. Please visit our other website
:
www.allmattingsolutions.com.au
© 2011 Boat Trailer Spares. All Rights Reserved.
No part of this website or any of its contents may be reproduced, copied, modified or adapted, without the prior written consent of the author.
Copyright in the content of the website remains with the Gallery and other copyright owners as specified.
Boat Rollers


Wobble Rollers

Alloy Centre Rollers

V-Block

Red Rollers

Blue Rollers

Black Rollers

Trailer Block/Strip

Wobble Assemblies

Wobble Conversion Kits

Eziguide


Flat Roller Assemblies


Flat Stem Assemblies

Tandem Bracket Assemblies

Trailer Bracket


Roller Brackets

Wobble Brackets


Multi Roller Brackets

Spindles

Eye Post

Wood Yoke Stem

Tube Adjuster


Bolt On / Weld on/ Saddle

Motor Support Brackets

| | | |
| --- | --- | --- |
| | | |
| Off Road Jockey Wheel | Off Road 2Ton Mechanical Coupling | Off Road 3Ton Electrical Coupling |